Property cards are compact, printer friendly parcel information pages. Each parcel will have a Land Card and one card for each listed building on the Land Card. For example, if a parcel has one residential building, it will print two pages. The first will be the Land Card and the second will be the Building Card. Property Cards must be printed in Landscape Mode. Most printers will default to Portrait Mode, so you will have to set the type during printing.

The Land Card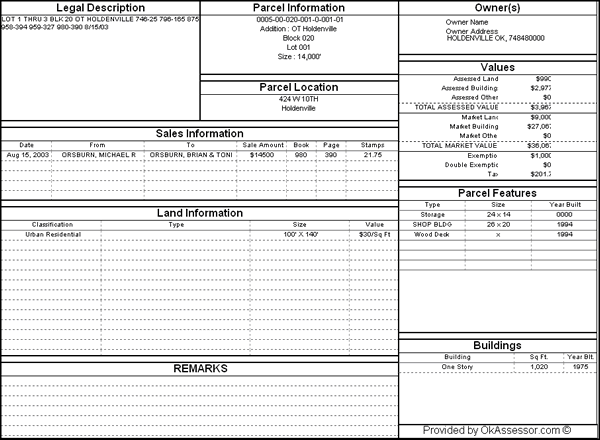 Land Card
The Land Card shows :
Legal Description
Parcel Information

Parcel Number
Addition
Block
Lot
Parcel Size

Owner Information

Owner(s) Name
Owner Address

Parcel Location
Values

Assessed Values
Market Values
Exemptions
Taxes

Sales Information (Up to five entries)

Sale Date
Grantee
Grantor
Sale Amount
Book and Page

Land Information

Classification
Land Type
Size
Value

Parcel Features
Buildings

Type
Square Feet
Year Built
Building Cards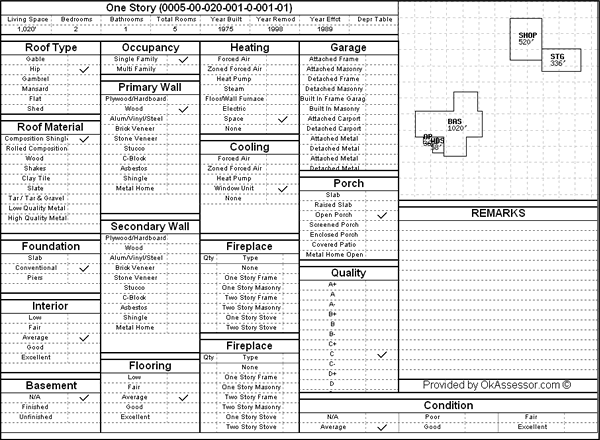 Building Card
There four types of Building Cards: Residential, Commercial, Agricultural, and Mobile Home. Each one differs in the information shown, but each Building Card has the size of the building and the sketch of the building. Residential, Commercial, and Mobile Homes cards have things like Roof Type, Heating, and Cooling. These sections are already marked with the value that matches the section. Agricultural Building cards have many of these sections, but they are unmarked since the assessor does not keep that data.