Sketches exist for only parcels with buildings on them. Photos only appear in certain counties. These can be accessed on the Parcel Information Page. Clicking the appropriate button will display either the photo(s) or sketch(s) of the parcel buildings.

Photo and Sketch Buttons
Sample Sketch
At the bottom of the sketch screen the Viewing Options and Image Sizing Option boxes appear: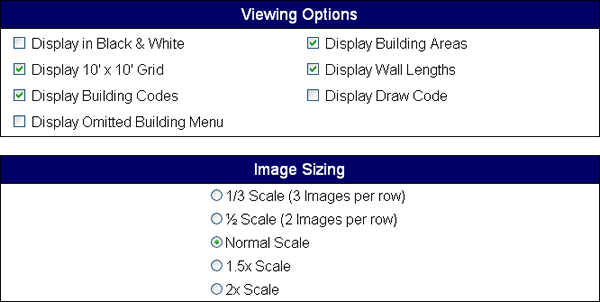 Sketch Viewing Options
Viewing Options
This section contains seven checkboxes.
Display in Black & White
This will display the sketch using only black and white colors.
Display 10' x 10' Grid
This will put a 10 ft x 10 ft dashed gird behind the sketch.
Display Building Codes
This will display the code for each building on the parcel.
Display Omitted Building Menu
This section contains a list of features on the sketch, including barns, sheds, porches, etc. Each one of these can be forced not to display on the sketch. Check the box next to the items you do NOT want displayed on the sketch and click the "Refresh Image" button.


Display Building Areas
This will display the areas of the different features/buildings on the sketch.
Display Wall Lengths
This will display the length of all walls to show its length in feet.
Display Draw Code
This will display the assessor's draw code for that building.
Image Sizing
This group of options allows you to display the sketch at different sizes. You can display a sketch from one third its normal size to twice its size.
Photos
Not all counties have their photos online at this time. The counties that do have their photos on the website can be accessed by clicking on the "View Building Photos" button to display the photo(s) of a parcel. The photos will be displayed vertically on the page.